Television Accessories | DGADGET.co.uk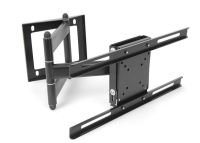 When you have purchased a new TV, or are moving your existing set, DGADGET has a full range of television accessories including many different wall mounts, TV stands and even 3D glasses .
Mounting Your TV
More and more of us are now mounting our televisions on the wall. It saves space, looks good and can be fixed at the ideal viewing height. And here at DGADGET.co.uk we have a large range of TV wall mounts and brackets that can be used for all VESA compatible televisions and large screen display panels.
The new generation of mounts and brackets make it much easier to fix the TV to the wall but we also have plenty of stands and cabinets to choose from if you prefer that approach.